To setup categories, open Categories page in the Products application and click on the menu button located at the right side of the category, then select Edit. (3)


This opens Edit Category page.
Window that enables you to define the category information will be shown:
Category Main Information - At the top of the page, you can change the Category Name, Parent Category, Track Stock, and COA information.
TAX Groups


TAX groups can be used only in the categories.
TAX groups are used to define which TAX rate is associated with the all products within category.
Each selected TAX group has a date, from which it will be active.
At the TAX groups table, select the TAX GROUP from the drop-down list, and then click on the +ITEM button in order to add new TAX group to the current category.
All listed TAX groups are predefined and they depend on the defined country of the logged in account.

Properties


you can easily find and select the property name from the default properties drop-down list e.g. size, color, or weight... etc.
add new property if it is not listed - write the property name in the list, and then click on the enter button, this will open the add new property popup screen:




enter property name and define property type & suffixes (only for type "number").
Click ADD button, to add the new property to the current category
All defined properties will be listed in the Properties page

Subcategories

Click on the menu button located at the right side of the record, and then select Open Subcategory.
Apply all the required changes on the selected subcategory as explained in previous steps.

Category Options

To create new subcategory for the selected category, click on the Create Subcategory option.
To open the parent category page, click on the Open Parent Category option.
To see category products, click on the Products Catalog option.
To delete the current category, click on the Delete option.

Click on SAVE button or press F9 keyboard key to save the changes, or click on the CANCEL button to ignore the changes and reload the category information.
Disable usage of the product category items at the quotes and invoices
If You like to exclude some product category items from adding them into the quotes and invoices, select the Disable invoicing option from the options menu.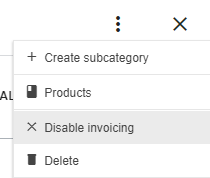 Note: If the product category is represented by red color some obligatory data is missing.